[CamerExcellence] – Behind his glasses fixed on his face, the gaze of an inspector. After leaving Fécafoot, in December 2021, it is on the side of CAF that Seidou Mbombo Njoya, 61, continues his career in football management. This time, under the cap of the fourth vice-president of the African football governing body. The president of CAF, Dr Patrice Motsepe, continued to trust him despite his non-reelection at the head of Fecafoot.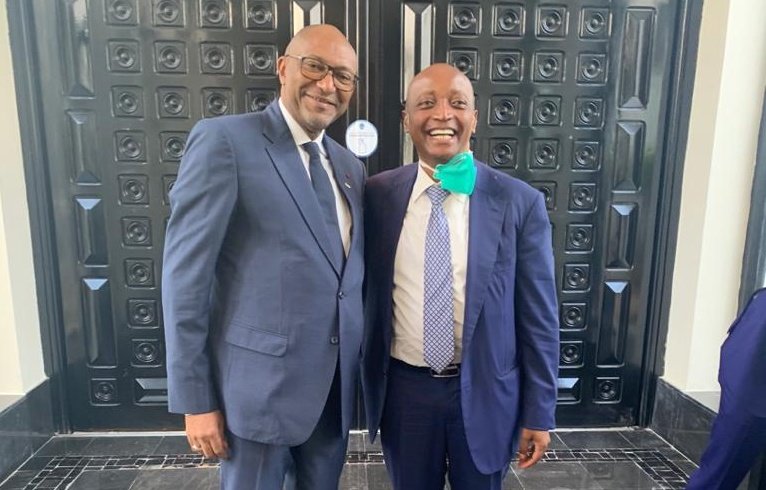 After the Fecafoot experience, it was in Algeria that Seidou Mbombo Njoya took his first steps as head of the CAF delegation for an inspection visit to the sites dedicated to the African Nations Championship. It was March 15, 2022. The CHAN itself should take place from January 08 to 31, 2023.
It was on March 13, 2021, that Seidou Mbombo Njoya was appointed by Dr Patrice Motsepe to the position of fourth vice-president of Caf. The day before he had been elected to the Executive Committee of CAF as a representative of Uniffac (Union of Central African Football Federations) after beating the Chadian Djibrine Adoum by 45 votes against 7. His term of office at CAF lasts five years, we learn.
Seidou Mbombo Njoya, therefore, leaves behind him the memory of his defeat against Samuel Eto'o: 43 votes against 31 out of 74, on December 11, 2021.
Like a fish in water
Seidou Mbombo Njoya is back in a structure he masters wonderfully. His career within CAF seems to be up to the task incumbent on him. The man has about thirty years in the service of African football. After having held positions as head of the professional football department.
Established in 2016, the Fifa body is responsible for developing projects aimed at professionalizing football worldwide, including club licensing programs and bespoke programs for the professionalization of clubs and leagues. He was also a member of the CAF Competitions Commission (for more than two decades) under the leadership of the Cameroonian, Issa Hayatou, former president of CAF (1988-2017).
The Actual Vice-President of CAF was also the Director of the Office of the International Federation of Football Association (Fifa) in Yaoundé. Yaoundé, more precisely in Tsinga where he was also vice-president of Fécafoot under the Iya Mohammed era in 2013.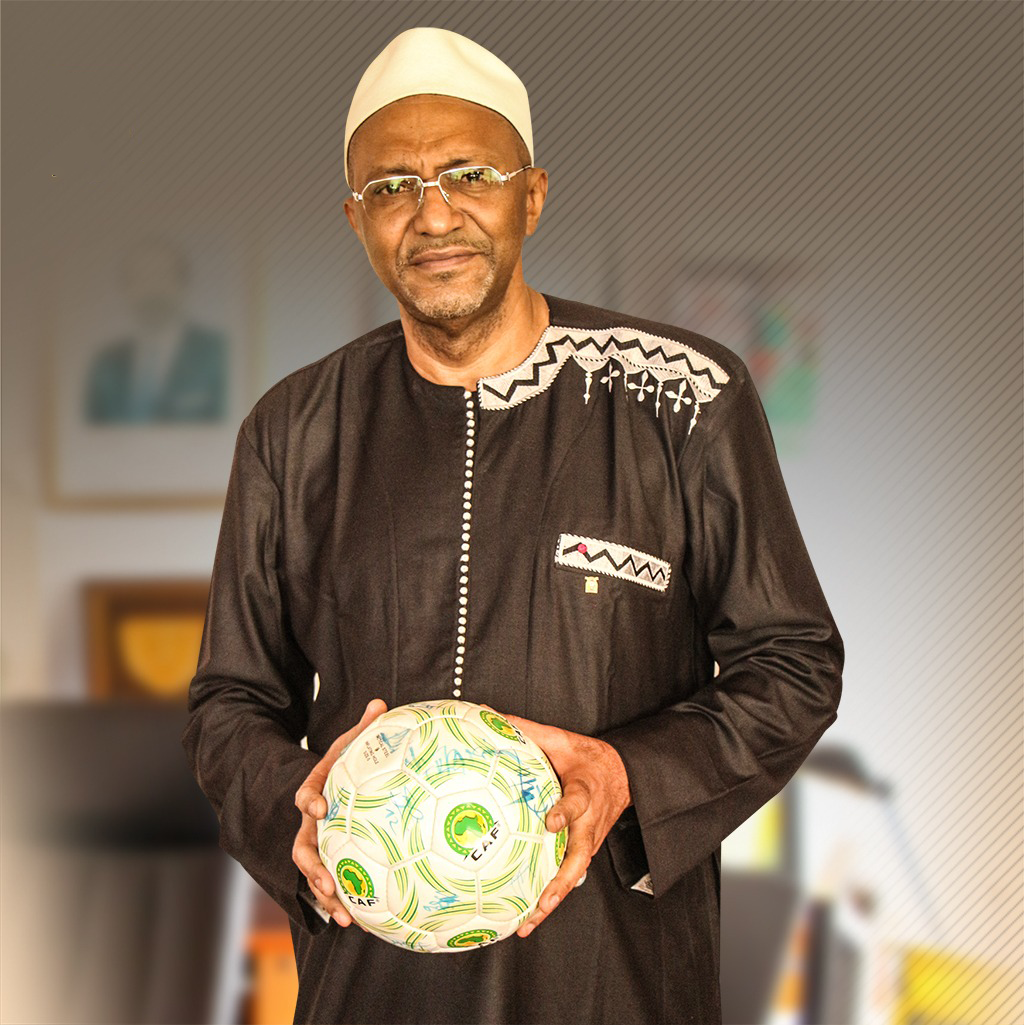 At the service of Cameroonian football
Long before this promotion to the vice-presidency of Fécafoot, Seidou Mbombo Njoya was president of the Federal Sporting FC team from Noun to Foumban between 2002 and 2005, then responsible for the International Commission of Fécafoot, second vice-president of the board of directors of the body in 2011. Before being brought to the head of the Cameroonian football body, on December 12, 2018 until December 2021, after a year and a half of normalization.
Football and lush lawns were not Seidou Mbombo Njoya's only areas of activity. He was director of the National Lottery of Cameroon, Lonacam, in the 90s. The structure will regularly present its activities to CRTV. This will arouse interest among football fans. This will be the beginning of sports betting in Cameroon. After the bankruptcy of Lonacam, Seidou Mbombo Njoya will initiate the "Cameroon foot pools".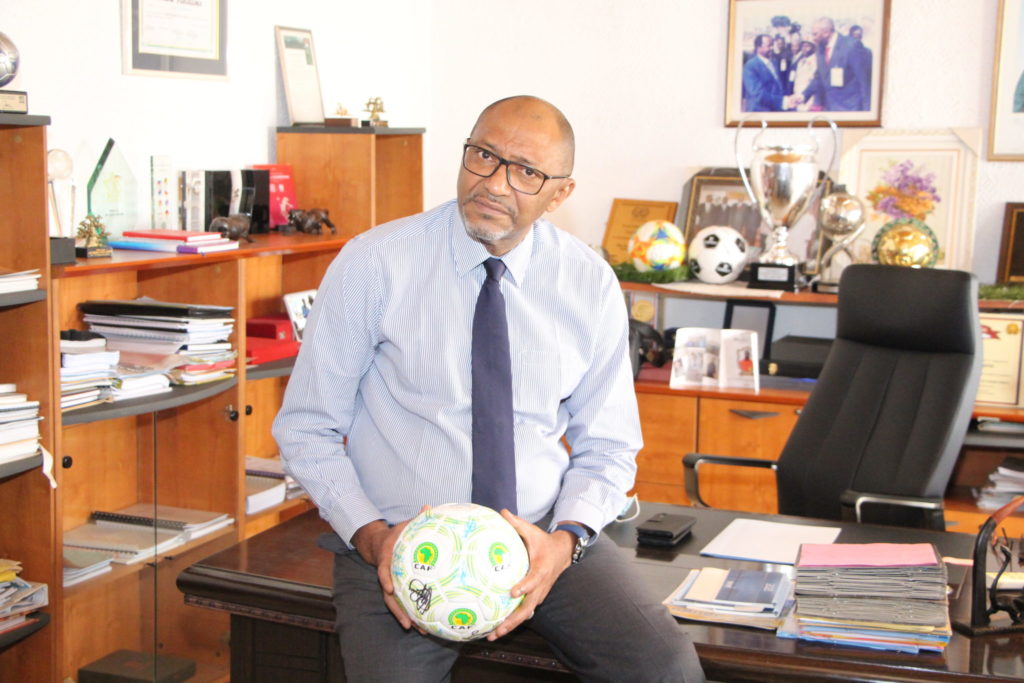 Sportsman at heart
Football is not his only passion sport. Seidou Mbombo Njoya also has a long love affair with many sports, especially golf. "In sport, we give a lot more than we receive. It's volunteering. If there is no good will, we will never move forward," he confided to camlions.com in 2005. When he became president of the Yaoundé Golf Club, which is the precursor of the Cameroonian Golf Federation, created a year later. He will remain in charge until 2010.
For some, he inherited this love for sport from his late father Ibrahim Mbombo Njoya, who died in October 2021. Like his son, he was president of FECAFOOT in the 1960s. In the senior administration, Ibrahim Mbombo Njoya was deputy minister of Education, Youth and Culture in 1965, then Minister of Youth and Sports in 1982 and in 1990, a second time.
After Fecafoot, therefore, Seidou Mbombo Njoya continues his career in football management with CAF. His skills in the development of football development programs, the design and implementation of monitoring and evaluation plans for programs and projects and his analytical, facilitation, coaching and support skills will undoubtedly be necessary. to CAF for a better influence of African football.
By Jean Materne Zambo, CamerExcellence
SOME PROFESSIONAL EXPERIENCES OF SEIDOU MBOMBO NJOYA
4th Vice-President and Member of the Executive Committee of CAF
President of the Cameroon Football Federation (December 12, 2018 to the present day)
Development Officer of the FIFA Regional Office – Central Africa (August 2014 – December 2016);
Member of the Executive Committee and President of the International Competitions Commission at FECAFOOT (1999 -2014);
2 nd Vice-President of the "Cameroon Professional Football League" (2011 – 2013);
1 st Vice-President of FECAFOOT (June 2013);
President – ​​Promoter "FEDERAL SPORTING CLUB DU NOUN" promoted to the 1st Football Division after 17 years (2002 – 2005);
Member of the Board of Directors of the National Olympic Committee of Cameroon (2006 – 2010);
Member of the Board of Directors of the National Football Academy (Dec. 2018 to present)
President of the Golf Club of Yaoundé (2005 – 2006);
President – ​​Founder & Honorary President of the Cameroon Golf Federation (2006 – 2010);
Manager ROYAL FOOTBALL SCHOOL du Noun (2012 to date)
Member of the Disciplinary Commission of the African Football Confederation "CAF" (2009 – 2014)
Member of the Organizing Committee for CAF "U20" Junior Championships (2009 – 2013);
Head of CAF Presidential Protocol (2007-2014);
Match commissioner African Football Confederation CAF (2008 – 2014);
Match commissioner of the International Federation of Football Association "FIFA" (2008 – 2014);