Cameroonian Francis Ngannou seized the world heavyweight title this weekend at UFC 260. A feat to which his compatriot Joel Embiid reacted, who congratulated him … in his own way. The fighter responded in turn, continuing the sympathetic streak on the networks.
This season, before getting injured, Joel Embiid was at the top of his game. MVP contender, carrying Philly to the best record in the East, JoJo dominated his subject with the Sixers. Be reassured, the pivot is not the only Cameroonian to walk on water: this weekend, Francis Ngannou also had his heyday!
The UFC fighter got his hands on the heavyweight world champion's belt on Saturday, with a stunning KO which made Rudy Gobert react . Obviously, the victory of his compatriot made proud the No.21 of the Sixers who tweeted to congratulate the champion, not without obviously teasing him. And given the UFC champion's response, Jojo would do well to be wary!
You'll definitely take me on the basketball court but in the Octagon I still stand a chance ?
Appreciate you my brother ?❤️?? https://t.co/getjTsqx98
— Francis Ngannou (@francis_ngannou) March 29, 2021
Joel Embiid : Te méprends pas… Je te prends quand tu veux à la bagarre lol. Félicitations!!!!

Francis Ngannou : You would surely beat me on a basketball court, but in the Octagon I think I have my chances.

I thank you my brother? ❤️ ??
A fight between "Troel" Embiid and Francis Ngannou would surely wreak havoc, but we would tend to put a coin on the world champion. The 120-kilo colossus could deprive us of the pivot for many more months if the two came face to face …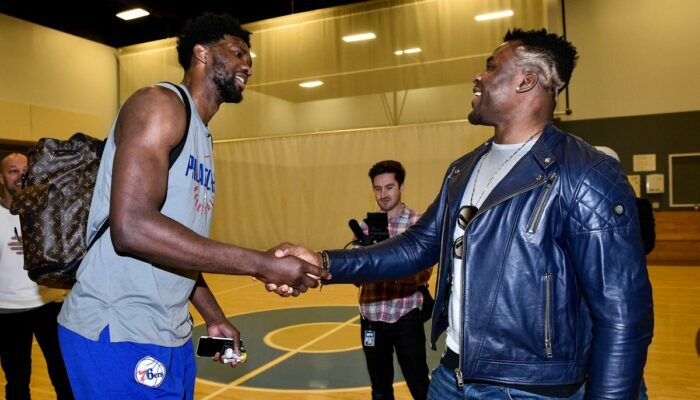 Will we see Embiid in the ring in the future? We know that Shaq does not hesitate to play wrestlers when the opportunity arises ! However, a fight with Ngannou would present very real risks for the Sixers star. Regardless, the two compatriots seem to be close and prefer to roost on social networks, to the delight of internet users.
Francis Ngannou humorously responded to Joel Embiid's troll on Twitter after his victory. The new heavyweight world champion knows Embiid's reputation and has shown repartee. In the meantime, Cameroon is shining !